Your Sewer Line Repair & Water Line Replacement Specialists
Edmonton & Sherwood Park Water Services
To most people, access to water and functional indoor plumbing seems like a simple commodity. However, none of these convenient comforts would exist without properly maintained underground channels.
If you live in an older home, chances are your water lines are constructed from lead pipe. Lead lines should be replaced with either copper pipe or another approved water line due to health risks associated with lead.
How to identify a broken sewer line
As with any issue involving drainage or your sewer, there are a few clues to always keep in mind so you can spot a break as soon as it happens. The quicker a broken sewer line is identified, often, the less damage and cost you'll have to face!
A few tell-tale signs to watch for include:
The smell of sewer gas, inside or outside of your home
Recurring drain backups
Fixtures, like sinks, tubs, showers, or toilets, that are slow to drain
An unusually damp or soggy lawn
New or worsening cracks in the foundation of your home
Contact us the moment you notice any of these signs in or around your home.
Signs of a water line break
Any break in a water line needs to be addressed quickly, as they can be disastrous for both your home and property. Common signs to look for include:
Water coming up from the ground: If you notice water bubbling up from the ground, it's a good indication that there is some sort of break or leak.
Flooding: If you notice water pooling in an unusual place, it's an indication that something is wrong. Flooding becomes especially dangerous in winter months!
Decreased water pressure: While decreased water pressure can be a symptom of a variety of issues, when combined with other symptoms it could point to a water main break.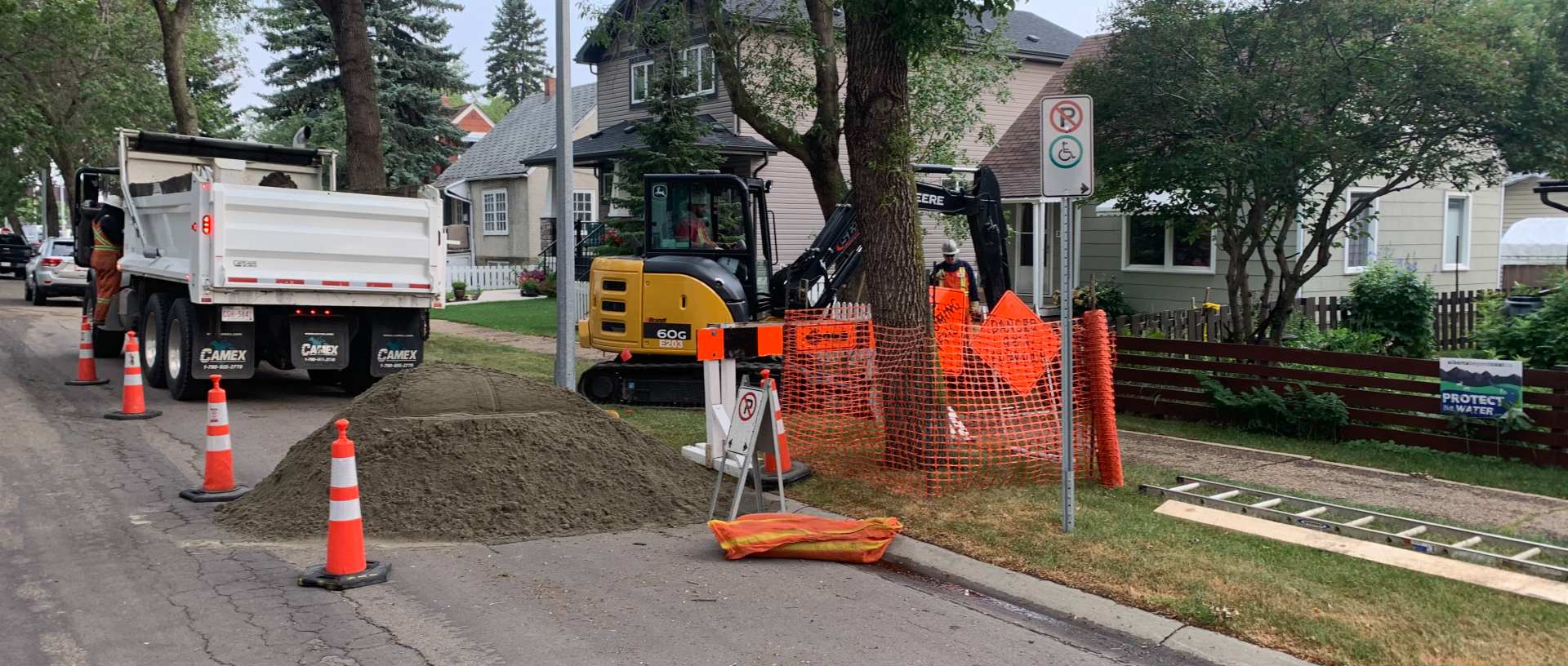 24/7 Emergency Services
If you don't act quickly, the cost of repairing or replacing a broken sewer line can escalate quickly. When you spot a problem, never hesitate to call on our 24/7 emergency service. Daytime or night, you can reach Strathcona Excavating Hydrovac Dispatch at 780.416.9000.
OUR WATER & SEWER SERVICES INCLUDE:
Sewer and Water line repair and replacement

Lead/Copper water line replacements

CCTV Camera/video inspection of sewer line

Pipe bursting sewer lines

Sump pump line replacements

Septic/Cistern installation, repairs & maintenance

Manhole & Catch basin installation & Repairs

Fire hydrant installation & repairs

Valve repairs and replacements

HDPE Pipe Fusing